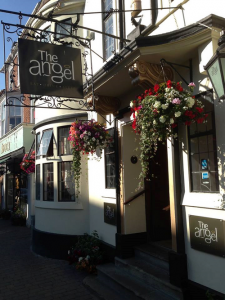 The Angel Hotel in Pershore has been brought back into local ownership for the first time in nearly a century.
The historic town centre bar, eatery and 15 bedroom hotel has been purchased from Enterprise Inns plc by the current operator, Spirit Ventures, an investment company owned by local entrepreneur Darren Eden.
Spirit Ventures have held the lease since 2008, and have since invested hundreds of thousands into sensitively refurbishing the Tudor hotel into one of the town's premier venues, as well as restoring the riverside gardens for community events, such as Pershore Carnival, Bonfire Night and the Big Plum.
"We're absolutely delighted to bring The Angel back into local ownership after so long", said Darren. "We're bucking the trend of pub closures and corporate ownership by securing a valuable town asset for the community for decades to come.
"We're a committed local employer and an Investors in People Gold organisation. We've shown through the years that we want to play an active part in town life, hosting events throughout the year and sourcing drinks and produce from local suppliers like Pershore College and Pershore Brewery."
The Angel Hotel was an important inn and posting house in the town for centuries, serving the main road between Worcester, Oxford and London, and it is believed that Queen Elizabeth I resided in the hotel during one of her itineraries. It was purchased by Cheltenham Brewery in the 1920s, before eventually passing to Enterprise Inns plc in 2003. This meant that The Angel has not been under local operation for nearly a hundred years, until the latest acquisition was completed late last week.
Darren sees the purchase as a victory for local employment and community life, and has hinted at big long-term plans for The Angel.
"We have invested into The Angel over the years, most recently by completing our refurbishment of the ground floor with our new look restaurant and lounge. The acquisition will allow us to escalate our investment programme into the property and its land, including refurbishment of the existing bedrooms, and possible future expansion.
"We want to engage with our customers, our team and the community on our future plans, as we believe The Angel will increasingly become a powerful draw for visitors to the town, and a source for pride for townspeople".
The purchase of The Angel was celebrated in some style. The venue closed for the night on Friday 31 March to all except staff members, their families, and selected guests for an all-night celebration that featured a spectacular fireworks display. The night also marked the twentieth anniversary of the Spirit Ventures group, with Darren toasting to an amazing double achievement for the business.